Timeline: 2003 - The Darkness Arrive to Rescue Rock and Roll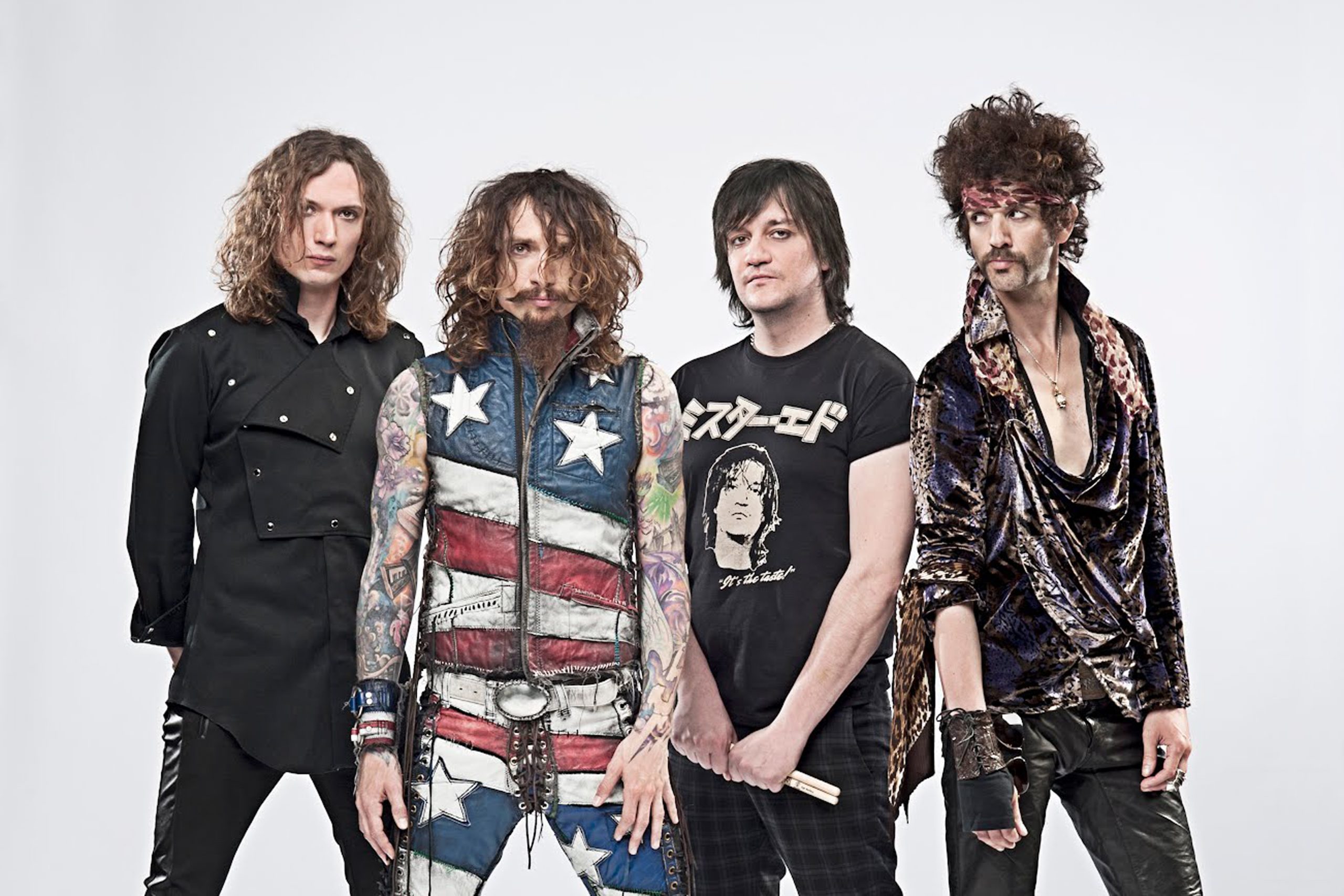 By Dave Swanson - Summit FM Contributor
In 2002, the landscape for anything resembling rock and roll music was pretty damn bleak. The top selling albums that year included Eminem, Britney Spears, Dixie Chicks, Pink and Celine Dion. 2003 was shaping up much the same way with Beyonce and 50 Cent leading the way. Of course there were rock and roll bands, there always are, we just have to look harder as time goes on. But, much like now, it was slim pickings on the horizon.
The idea that a full on Rock band could exist in the early 2000s, let alone succeed, seemed abstract at best. We had the White Stripes and a few random glimmers of hope I suppose, but most people's idea of 'rock' at the time boiled down to Nickelback, Three Doors Down and other faceless gibberish. There was nothing genuinely exciting going on. What would it take to get a rock band back in the public eyes and ears, even if for a fleeting moment? The answer surprised most everyone.
The place, Lowestoft, England; the band, the Darkness, their mission: Let It Rock! "I would say that we didn't have an eye on the scene. We weren't thinking about the other bands and what they were doing, really," Darkness vocalist/guitarist recently told Metal Injection. "When I was 15 I joined a band and my mother was like, 'you've got to look different. You can't just look like you've just walked in off the street. You've got to make an impression.'" Make an impression they most certainly did.
After a couple independently released singles which scored well in England, the band found itself in a bidding war, ultimately signing with Atlantic Records worldwide. Their debut album, 'Permission To Land,' was released in the fall of 2003 and to mark its 20th anniversary, a deluxe 4cd/1dvd box set has just been issued.
For those unfamiliar, the Darkness is a hard rock band. Not heavy metal, but hard rock full of glittering prizes such as insanely catchy melodies and songs that refuse to leave your being. Top flight musicianship, something that so often was overlooked due to the top level entertainment the band provided. It was all about glitz, glamor and putting on a show. Long hair, spandex cat suit, high register vocals and a grandiose sense of humor and style was the law of the land.
A year or so following the album's release, it seemed the Darkness was everywhere! Their single, 'I Believe In A Thing Called Love,' became a surprise hit, even going 'Gold' in America and topping charts worldwide. The album sold several times platinum, catching the industry, and the public, off-guard.
One thing that seemingly worked for and against them was that the sounded like no one else at the time. Critics were quick to pick up on the influences of both Queen and AC/DC. This was bombast at its finest with great songwriting at the core. It should come as no surprise to note that to make money pre-Darkness, Hawkins was actually a 'jingle' writer, penning commercials for the likes of Yahoo, Ikea and Mars Bars among others.
From the first riff of album opener 'Black Shuck,' it was clear this was unlike anything going on at that moment in time. No signs of alternative, grunge, or Britpop, and nary a whiff of electronica, boy bands or any other trends of the previous decade. There were ties to 1970s glam but more so in spirit than sound. The Darkness were utterly unique, yet utterly familiar at the same time.
The one thing that puzzled the public at large was their sense of humor. A lot of people assumed they just couldn't be serious therefore, they must be a parody band, a real life Spinal Tap so to speak. "I think it's because we were so unfashionable that it felt like we were trying to do a trick on people," Hawkins told Rolling Stone UK.
"I think it was hard for people to understand how this thing actually emerged and that led to a slight suspicion that we were making a big joke at everybody's expense. There was even a weird conspiracy that Simon Cowell had put us together," he continued. "Being accused of being a parody so was annoying to me. It was like, if you chipped away at it and accused it of this or the other, what you'd find in the middle is a bleeding heart with rock and roll coming out of every fucking artery."
So how does 'Permission To Land' hold up 20 years on? I will be totally honest here. It hasn't aged a day! It still sounds vibrant and fresh and still delivers a punch like no other. Neither the songs nor the production sound dated after two decades, they simply sound like the Darkness! The new box set is essential! In addition to the album, you get all the singles, b-sides, previously unreleased demos, two complete concerts and all the videos! Disclaimer: I have insatiably worshiped this album since it was new and I still believe it to be the finest album released in the past 20 years and one of the greatest debut albums of all time!
The band briefly broke up in 2005, reuniting after a short hiatus, and has continued recording and touring to this day. They are currently on a world tour celebrating 'Permission To Land' in all its glory.
In summing up the band's legacy, Hawkins added, "There was so many principles at stake that we stood for. Guitar solos, the principles of having fucking loud guitars on stage, the principles of wearing cat suits and doing all that stuff, and the principles of not caring what anyone else said. did or thought about us. We just thought fuck everybody, we're The Darkness!"