Timeline 1973: The Future Now As Television Turns On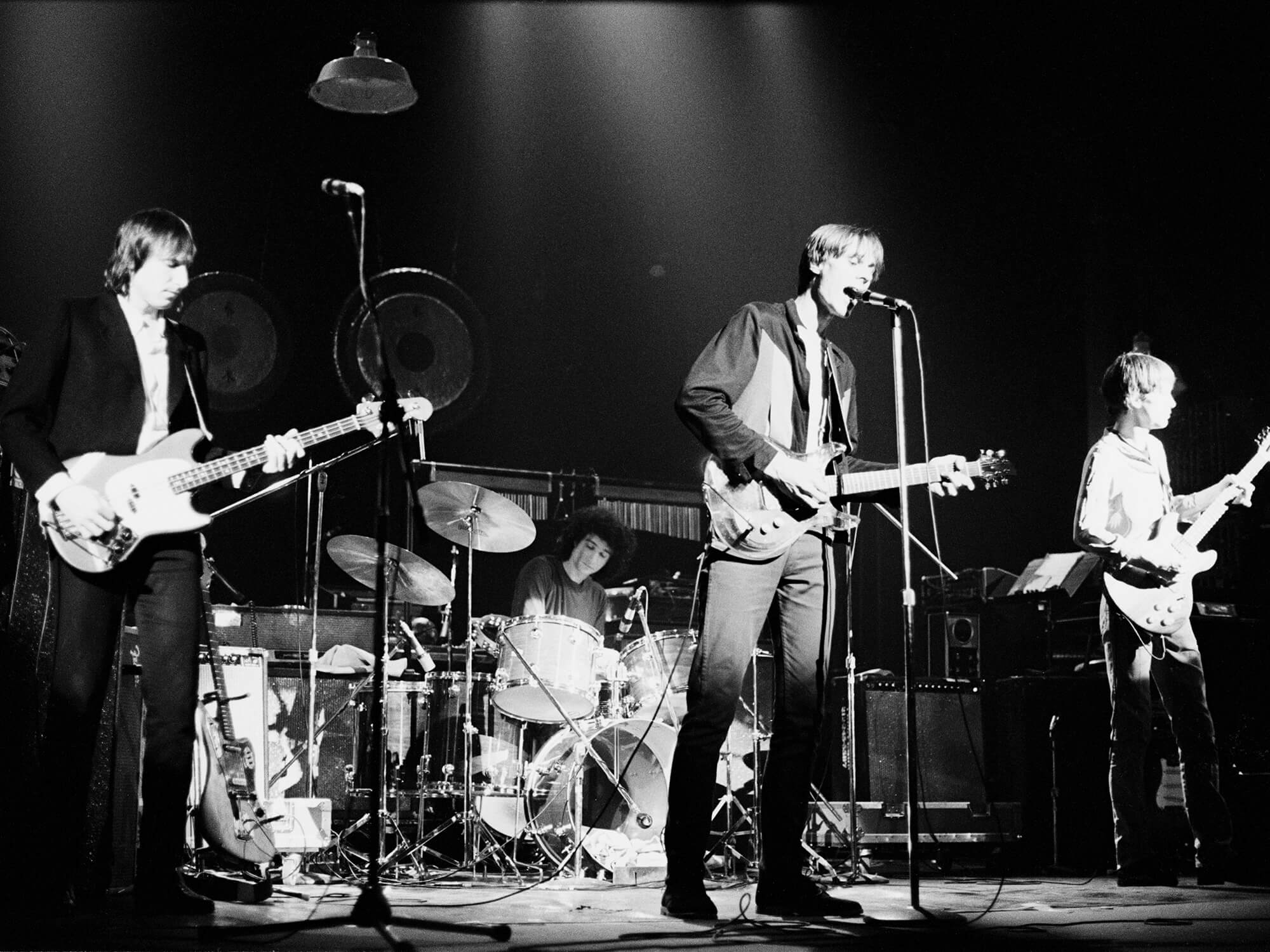 By Dave Swanson - Summit FM Contributor
It's funny how people like to remember and or write the history books in neat orderly form, as if there were definitive starting points and ending exclamations. This all makes for fine reading and or storytelling, but the truth is never that definitive. The truth is much more fluid with various things going on simultaneously, overlapping one era into another, and so on.
1973 was a banner year for all things prog, glam and trad. Yes, ELP, the Who, Stones, Pink Floyd and solo Beatles were all happening in a big way that year. Eagles had taken flight along with Skynyrd and others who would soar even higher as time moved on. 1973 seemed a different world from changes that would take place over the next few years but a foursome from NYC were overlapping, creating their own little world that would eventually blossom into a local then worldwide movement.
In 1972, guitarist/songwriter Tom Miller had become fast friends with fellow musician Richard Meyers. With little experience, these aspiring New York City rebels decided to form a band. Friend Billy Ficca was added on drums and the trio became the Neon Boys with Miller, rechristened Verlaine on lead guitar and Meyers recast as Richard Hell on bass. The Neon Boys sound was minimal, especially compared with what was happening above ground. Rooted in the raw style of early Rolling Stones, Pretty Things, Velvet Underground, and others, the Neon Boys were delivering music that would become much more commonplace as the next few years unfolded.
The Neon Boys weren't alone in this realization that raw rock and roll was not lost on all. The Modern Lovers in Boston, though a bit more polished, had the same energy and sensibility, while Mirrors were a hidden treasure in Cleveland who, with the Velvet Underground as their guide, dished out their own garage chaos long before Ramones were a household name.
By spring of 1973 Hell had recruited Richard Lloyd on second guitar to complete the line-up who had adopted the new moniker of Television. The foursome was amped up and ready to 'prove it' to whoever would listen, but they found themselves without a venue to perform. Their manager was an aspiring music mogul named Terry Ork, who, within two years, would start his own label, the influential Ork Records. Ork went about finding a place for his new band to play and stumbled upon a new bar on the bowery. Formerly a biker hang out that had just recently been bought by a guy named Hilly Kristal and reinvented as CBGB & OMFUG.
Country, Bluegrass, Blues, and other Music for uplifting Gormandizers was what that batch of seemingly random letters stood for. This was Hilly's vision for what the tavern would feature, but ultimately, of course, it was the musicians who would give the club its identity. Television was the first of this new breed of bands to adopt CBGB as home away from home. In short order Ramones, Blondie, Talking Heads, Dictators and many more would also embrace this dive on the Bowery making it the unlikely springboard for an entire movement.
Television carried on developing their style despite losing founding member Richard Hell in 1975, who went on to form another classic band, the Voidoids. Demos were recorded and though those demos were often credited as being produced by Brian Eno, it depends on who you talk to. Ultimately it seems Eno's involvement was minimal and ultimately, the band didn't use them.
With bassist Fred Smith now in the lineup, Television recorded their debut single. Released in 1975 by Ork Records, 'Little Johnny Jewel,' somewhat kickstarted the idea of independent labels of that era. The single got good press but ultimately failed to live up to what the band were truly capable of.
Another year of treading the boards at CBGB and the band were signed to Elektra Records. With the solid twin guitar power of Verlaine and Lloyd atop the powerhouse rhythm section of Ficaa and Smith, Television would emerge from the fog of those early days with the forever classic album, 'Marquee Moon.' Released in 1977, it stands as a monument of creativity and perseverance.
They had no idea at the time, but these scrappy kids with rock and roll, poetry and art on their minds set something in motion back in 1973 that still produces ripples 50 years on. At the risk of horrible cliche, this was one Television that should be turned on.
In Other News